Mazda 6 2.5 L5-VE Engines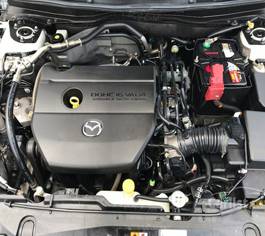 Mazda 6 2.5 L5-VE Engines
Supplied & Fitted, Competitive Prices
Top Rated & Verified Seller
Item-Location: United Kingdom
Price From:
£ 1967.36
Upto 24 Months Warranty You can save upto 60% with us
GET FREE QUOTE NOW!
Our Major Engine Testing Checks.
Our sellers consider following major checks while testing the engines before shipping
What Makes Us Unique from Others?
We guarantee you that you will get excellent products & services without any flaws.
Mazda 6 2.5 Used & Reconditioned Engines Technical Details.
| Make | Engine | CC | Fuel | Body | Engine Code | Chassis | Power | Supply |
| --- | --- | --- | --- | --- | --- | --- | --- | --- |
| Mazda | 2488CC Mazda Sport L5-VE 120 KW engine | 2.5 | Petrol | Hatchback | L5-VE | GH | 163 HP | Direct Injection |
| Mazda | 2488CC Mazda Sport Kombi L5-VE 120 KW engine 07-13 | 2.5 | Petrol | Estate | L5-VE | GH | 163 HP | Direct Injection |
| Mazda | 2488CC Mazda GH L5-VE 120 KW engine | 2.5 | Petrol | Saloon | L5-VE | GH | 163 HP | Direct Injection |
| Mazda | 2488CC Mazda GG L5-VE 120 KW engine 02-07 | 2.5 | Petrol | Saloon | L5-VE | GG | 163 HP | Intake Manifold Injection/ Carburettor |
| Mazda | 2488CC Mazda Hatchback L5-VE 120 KW engine 02-07 | 2.5 | Petrol | Hatchback | L5-VE | GG | 163 HP | Intake Manifold Injection/ Carburettor |